Planar Chip Inductors
SemiGen manufactures Planar Chip Inductors using either polished quartz or alumina substrates that exhibit a very high dimensional uniformity for bias injection and tuning in microwave amplifier, switch, and multiplier applications.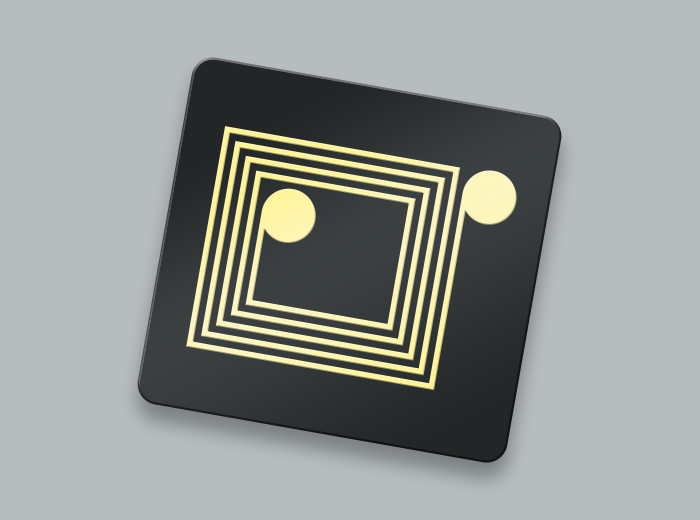 Planar Chip Inductors are offered as individual items or can be purchased in assorted quantities through one of our convenient engineering kits. Inductors are usually available within 2 weeks of order. SemiGen offers the following thin film gold Planar Chip (Spiral) Inductors deposited on polished quartz as standard products. In addition to the standard parts listed below, SemiGen can also fabricate a custom Planar Chip Inductor using your design.
Part #
Turns
Nominal
(nH)
Inductance
Min.
(nH)
Inductance
Max.
(nH)
Max. DC
Resistance
(Ohms)
Min. Q
@ 100 MHx
Min. Self-Resonant
Frequency
(GHz)
Max.
Current (mA)
Outline
10450Q
4.5
7.5
6.0
9.0
15
5
20
100
10350Q
3.5
4.5
4.0
6.0
8
10
20
100
10250Q
2.5
2.5
2.0
3.5
5
10
20
100
Features:
Gold Thickness up to 6 microns (240 micro-inches) for high Q, 1.8 GHz performance
Lines and Spaces down to 10 microns (400 micro-inches)
Insures chip-to-chip and lot-to-lot repeatability
Ti/Pt/Au on both sides, which allows for high temperature attachment and applications
Polished Quartz (.015 thick) with very low loss tangent and dielectric constant for 18 GHz applications.
Three standard parts numbers are offered. Custom inductors are available ranging from 1 to 20 turns.
Standard sizes of .025"x.025"x.015" are available from stock. Sizes down to .012" x .012" are available in three to four weeks.
Downloads:
We use cookies to enhance your user experience. By continuing to browse this site, you are giving your consent for cookies to be used. For more information, please refer to our
Privacy Policy.